The sandals you have to buy on sales
It's time to renew your wardrobe and get your seasonal women's sandals at a discounted price.
There are several things you have to take into account before going on
sale
. ONLY things that you need, that you are going to get a lot of use out of and above all that you can continue to use next summer.
All our
women's sandals
are very, very comfortable, handmade in leather and with a cushioned sole that will make you feel like you're wearing cotton.
The best thing about them? No matter how much you wear them, you won't get tired of them, they have a timeless design that will make them your favourites next summer.
The worst thing? That they are flying out and you have to hurry up a lot so you don't run out of your size.
Different shapes, colours, heights, you don't know which
sandal
to choose? We'll help you!
A) SOS delicate feet
If you are one of those who never find flat sandals because all of them rub you, or don't fit your feet well, you have to meet Coco and Olympia.
These are the
life-saving sandals.
With a cushioned sole and very soft leather that adapts perfectly to all types of feet.
Once you try them you won't want to wear anything else. They are also available in the most essential colours,
Nude
,
brown
and
black
.
Get these leather sandals for less than 38€. It's time to think about your feet and give them the best.
B) Bryan for trend-followers
Square toe, rectangular heel, tubular straps and pastel colours. Roma and Zoe are the favourite sandals of fashionistas.
This season, full-colour looks are a trend, and we wanted to join in with our
flat sandals
in fashionable tones.
The
flat sandals
,
Roma
and Zoe, are a hit, and you won't find two alike, plus they are very combinable tones that give you the chance to create all kinds of outfits.
We have gone a step further with combinations of
Zebra
and
leopard
prints with mustard and purple tones without forgetting the basic colours that you can never miss.
Zoe
is simple but will give a special touch to your feet.
C) The most minimalist sandals
The traditional toe sandals are back! We have rescued the traditional model to adapt it to the modern day with a square toe and straps that increase in size, making a beautiful pattern on the foot. In shades of brown, black and white, Dafne is only €43 and you'll love them!
Milano was the most popular flat sandal last summer and it had to come back. They are comfortable, simple and beautiful. It is a flat sandal with charm. With just a pair of thin crossed straps, they manage to hold the foot getting that "open toe" effect that we like so much.
Get Bryan's most minimalist flat sandal for less than €45.
D) For heel lovers
Nolita
and
Grecia
are love at first sight! Finally a
heeled sandal
that you can wear for everyday wear. They are as comfortable as a flat sandal but with a 5 cm wide heel that will give height to your looks.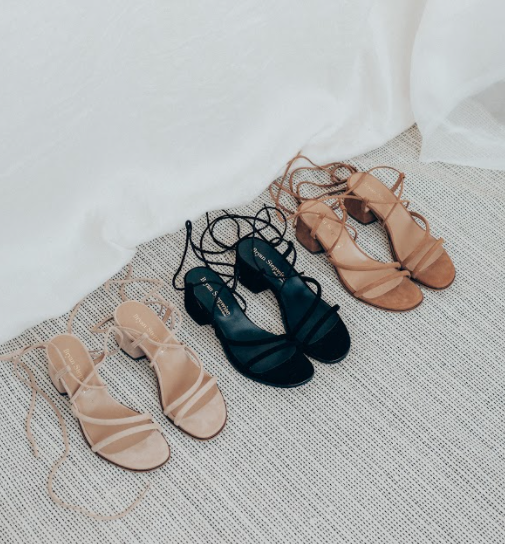 Póntelas con unos jeans para el día a día o con un vestido más especial para tu cita del sábado.
Grecia y Nolita son perfectas para cualquier plan. Cómodas, bonitas y muy combinables.

Choose between 3 tones:
Camel
,
beige
or
black
and get them for less than 53€ before they sell out.
Visit our
website
to see all our seasonal
women's shoes
now with
special sales.
Want to see what our
sale sandals
look like? Follow us on our Ig profile
@bryanstepwise
and you'll be able to see ideas on how to combine them.